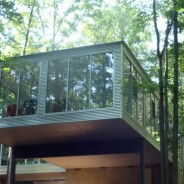 This project is situated on top of a hill, in the middle of a beautiful stand of woods, accessible only through a small and steep dirt road.  The owner wanted to preserve the natural setting and did not allow for the removal of more trees than absolutely necessary. The modern design called for a steel structure with up to 30' steel beams in order to achieve a 16' cantilever of the master bedroom. Bringing the steel beams to the job site and handling them within the close proximity to the trees was a great challenge. The house features some...
read more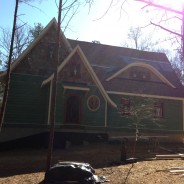 The owner of this new home under construction calls this his Hobbit House. You may understand why when you look at the pictures. I think one could say this house has an organic look and a somewhat whimsical design.  Notice the curved eaves and the eyebrow dormer. The siding is from a local mill and is roughsawn Atlantic White Cedar. We left one live edge showing so you see the natural curves of the trees in the bottom edge of the siding.  In the gables we used Poplar bark siding which is literally the bark from poplar trees peeled off with a...
read more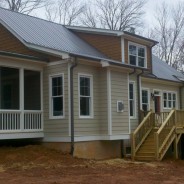 This house has had an interesting evolution. This customer had a nice parcel of family land and a collection of loose ideas and photographs. The design evolved and formed into an end product which was a very satisfying experience for ourselves and the customer. The house plan was modeled for energy performance before the first hole was dug which allowed us to do cost benefit analysis of different performance options. This house has a geothermal heat pump with a spare buffer tank which allows byproduct heat from the heat pump to supply...
read more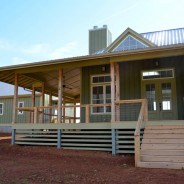 This home is a Southern Living plan in the "low country style." It is almost finished and has been built in an open meadow on a horse farm. The interior features a very open floor plan with simple but elegant details. The house has a very deep wrap around porch with an exterior wood burning fireplace with stone surround. We decided to use rough sawn Atlantic White Cedar for the posts to add to that horse ranch feel but with a modern twist of stainless steel cables for the balustrade. The cables allow for a clear sight line of the horses...
read more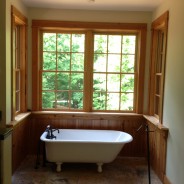 Clawfoot tub nook – heart pine wainscoting and trim with travertine floor Stairs designed and build by John Cummins with Jose Lule. Used angle iron painted black for stair support brackets and 1 ½" square tube steel for balusters in order to get that warehouse/rustic industrial look at an affordable price. Used reclaimed douglas fir beams for stair treads and balcony beams. Fireplace is done with reclaimed bricks from an old...
read more